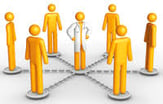 We recently posted about the consumerization of health care that is truly driving change. Today I'd like to look at a few trends to keep an eye on that will prepare us for clinical trial success in the coming years.
Socio-Techno Advancements
The miniaturization of computers enables embedding in flexible materials to capture physiological data. At the same time the advent of low-energy, wireless Bluetooth allows us to reliably use these mini computers as sensors in the environment – on the skin or clothing for example, or in your surroundings (light bulbs, wall sockets) where data is then transferred to Cloud services that stitch the data together, merge them with real-time data from other sources, and perform rapid analyses.
At the same time, Facebook has ushered in an era of decreased sensitivity to exchanging personal data with Cloud services and applications, which we can see is transferring to patient communities where individuals share their medical information. Coupled with increased comfort in hyper-targeted marketing, the savvy e-patient of the future will likely expect to be notified of highly relevant options for treating their conditions including those that clinical studies have to offer.
Getting the Balance Right
Talk about wanting more. Patients have the information and data that we want them to share as part of a clinical study. Their personal data is highly valued. But what can they expect in return? And what is an equal exchange? Could it be as simple as providing them with options as to how they would best like to receive their information about their health or study? We say, "no patient left behind," which means providing options. Making sure there is equal opportunity to receive information. Some people might like a brochure, some might value a website, some manage multiple aspects of their lives through email, and yet others will find an app most engaging. Think about the diverse ways that people now prefer to get their news. Getting the balance right requires making good on the understanding that one size doesn't fit all – that each patient's experience in a clinical study is unique to them individually, not as part of a set of patients who happen to have a particular condition.
Outreach Strategies
As global competition for clinical study participants steadily increases and the demand for more relevant information across relevant channels continues to increase, patient recruitment and engagement is going to require an escalation in sophistication. But as we like to say at BBK, "it doesn't have to be hard to be good." The patient recruitment and engagement experts of the future are honing their skills now as they match certain messages and tactical mixes with the patient's perspective clearly front and center. They analyze, measure, and adapt based on powerful, real-time data from the field. But again, while the technology and communications channels may change, some things stay the same – such as sick people want to get well. Effective patient recruitment and engagement will rely just as heavily in the future as it does today on first analyzing each clinical studies' strengths and challenges from a purely patient and site perspective and then developing and a strategic plan accordingly. The flexibility of newer digital channels provides the ability to more easily segment our audience and provide targeted messages based on what's most likely to resonate in each group, then further sub-divide to deliver the next message based on and individual's response and behavior.
While these trends are top ones to watch for and learn from, these aren't the only ones we can learn from as we plan for clinical trials down the road. Next week we will explore a few more trends on the blog that when applied correctly, will enhance the patient recruitment and engagement practices of tomorrow.