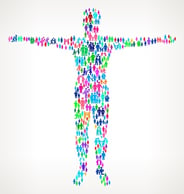 At the 2015 DIA Annual Meeting this past June there was a lot of talk about how technology is impacting the way we interact with patients, sites, and other key players in the clinical study landscape. When I sat down with three other industry experts to discuss bringing clinical trial practices into the 21st century, I shifted the talk to focus on the forces that drive the way we communicate with patients and with each other within our industry. Furthermore, how can we look at today's trends to better predict the future of patient recruitment and engagement?
We know that innovation applies pressure but it is the consumerization of health care that truly drives change. Consumer behaviors put on the pressure to deliver on the promise of clear and relevant communication regardless of the channel. It takes a strong communications strategy to meet or exceed patient expectations.
Collaboration within the clinical trial industry – and even from outside the industry, is quickly becoming the baseline. These newly formed partnerships are paying off big time for patients that crave multiple features and ease-of-use. mHealth is one area where these types of alliances are bringing the innovation that consumers are seeking for their health care.
And let's talk about timing. Today's innovations in marketing and communications, and how they can be applied to health care are truly remarkable. The time line for implementation has been accelerated greatly in today's fast-paced world. 1-3 years is the new 5-10. Why is this the case? It's that the technology and infrastructures supporting these inventions are so powerful. It allows people to not only to invent so many different things within a short time frame, but also the consumer uptake of new communication technologies has continued to compress over the past century.
For example, it took more than 50 years to achieve a consumer adoption rate of 50% for radio and only 10 years to achieve the same percentage rate for television. How about for social media? Only 3.5 years. You can see how time lines are compressing with each new innovation. So while communications experts and marketers once had many years to perfect the communications strategy within a single medium, they now have maybe a year, at most, to get it right. Those that employ strategy and planning to include flexibility and change are going to have a distinct advantage as time frames continue to get shorter.
It is clear that marketing and communications play a key role in patient recruitment and engagement. How will patient engagement continue to evolve in the coming years, where key technologies within the health care space are predicted to soar? A clear communications strategy will need to be a key component of success within the clinical trials industry.
In the coming weeks we will further highlight the major trends we should explore to prepare ourselves for success in the industry tomorrow. Check back on the blog frequently for more and be sure to follow us on Twitter @BBKWorldwide.