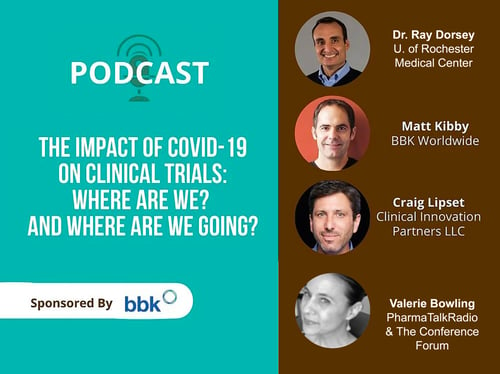 As the country goes through the phases of reopening, what does that mean for the patient and site experience in clinical trials? PharmaTalkRadio's Valerie Bowling discusses the future of clinical trials with Ray Dorsey, MD, Matt Kibby, and Craig Lipset in this feature podcast.
The industry thought leaders share their perspectives on the rapid adoption of virtual solutions and discuss the potential impact on future clinical trial participation and study design. In addition, they explore the possibility of hybrid trials becoming the new normal, and offer advice for how clinical trial sponsors can position themselves for success.
CLICK HERE to listen to the podcast.
Participants:
Ray Dorsey, MD, David M. Levy Professor of Neurology and Director of the Center for Health & Technology at the University of Rochester
Matt Kibby, President, Principal, BBK Worldwide
Craig Lipset, Founder, Clinical Innovation Partners LLC, Former Head of Clinical Innovation, Pfizer
Moderator:
Valerie Bowling, Host, PharmaTalkRadio, Executive Director, The Conference Forum