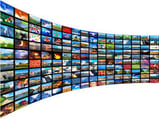 We all know that GoogleTM is the biggest search engine in the world. Did you know that YouTubeTM is number two, with over three billion searches each month? With streaming video expected to make up approximately 70 percent of all Internet traffic by 2018, now is the time to capitalize on integrating it into your clinical trial recruitment strategy.
A Commercial Success
Television remains a dominant player in clinical trial advertising. But as more and more people choose to "cut the cord" in favor of popular streaming services like Netflix and Apple® TV, advertising is poised to push the medium forward. Utilizing a free-to-view content model, streaming video's mix of advertisements – which appear at the beginning, middle, and end of video content – ensures your clinical trial is consistently being presented and shared with highly engaged viewers.
Delivers a Memorable Performance
Two audiences watch the same 30-second video clinical trial advertisement – one group on television and the other on their mobile device. Which audience is more likely to remember your advertisement and the message it delivered? According to a study conducted by The Nielsen Company, mobile comes out ahead. Sixty-four percent of mobile viewers had general recollection of the ad compared to 46 percent of TV viewers. For clinical trials, that level of recall can be the difference in converting viewers into study participants.
The Medium is the Message
Gone are the days where people turn to their phone to engage in content that was designed for broadcast or desktop platforms. Quick example: take your phone and use it to watch a brief video. OK, now did you have to rotate your phone to view it full screen? Most likely. But that's not how most of us interact daily with our mobile devices. Peer-to-peer streaming video apps like Snapchat and Periscope have learned to "embrace the vertical," which means that advertising on these platforms must mirror the look, feel, and functionality of the native app or risk creating a disconnect that fails to engage viewers.
Streaming Video Scores Big Ratings
Thanks to the advanced metrics self-provided by users and generated from their online viewing habits, clinical trial marketers can serve content on a more personal level – with messaging that resonates with the target audience and drives toward new study opportunities that would interest them. But what about study website visitors who leave prior to taking the online prescreener? Through advertisement retargeting, marketers can re-serve ads to people after they leave your website – ensuring your message remains top-of-mind with potential participants long after expressing interest – and hopefully result in future conversion.
Extending Beyond Your Reach
In many countries, regulatory agencies prohibit the broadcast of clinical trial advertisements on television. For these cases, streaming video becomes a viable alternative for connecting and engaging with global audiences. Also, creating a YouTube channel devoted to your clinical trial – populated with information about the condition, physician interviews, and tips for daily living – can serve as a resource for both prospective patients, as well as current study participants to increase retention rates.
For more on how to incorporate live streaming into your next clinical trial recruitment campaign, take a look at our recent post on online streaming radio and be sure to follow us on Twitter @BBKWorldwide.