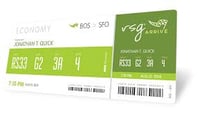 Last week on the blog we highlighted BBK's RSG® Arrive service, which underscores our commitment to patient centricity by easing study visit travel complexities and in turn, expanding clinical research participation. We know that travel can be a hassle, but what if getting a patient to a site could mean the difference between receiving a potentially life-saving treatment or not? What makes a patient travel program such an integral part of the clinical trial landscape?
Timelines Matter
What many don't realize is how vital it is for patients, particularly within the rare disease community, to have the option and ability to quickly travel far distances to participate in a clinical trial. Additionally, many rare disease patients are newborns newly diagnosed with a condition that, if eligible to participate in a clinical trial, might require treatment prior to the onset of symptoms, upon birth, or shortly after birth. As timeliness is of the utmost importance when we are talking about rare and often fatal conditions, there is just no time to waste when a clinical trial might be the last option.
Diseases are Distinct
Each disease – rare or not, is unique, and therefore, each protocol is different. A robust patient travel program like RSG Arrive is flexible enough to cater to varying protocols and ensure success across the board. Its 24/7 multilingual support and customizable features mean patients in any country can utilize this concierge service to get to where they need to be in a timely and safe manner.
BBK is currently working on a handful of campaigns where we are seeing firsthand how vital the patient travel component is to overall success of the trial. For example, through our full-service concierge program, we are able to get patients across the world within days even for screening visits as they consider clinical trial participation, and we are able to get them to and from visits even for the most demanding and complex visit schedules. When it comes to managing all these logistics, what once took sites several hours to coordinate now takes about ten minutes with RSG Arrive.
Since BBK's RSG Arrive program launched last year, we have assisted dozens of clinical trial participants– often times with their families or assigned caretakers, to sites that required extensive travel. Everything from hotels, cross-border transportation, in-flight physician support, and any other special requests are seamlessly handled by the concierge. As sites have called RSG Arrive both a "novel" and "revolutionary" approach to patient travel, we too know it truly makes a difference for patients and their caregivers when it comes to enhancing their overall clinical trial experience and bolstering trial compliance.
Learn more about RSG Arrive on our website. If you're interested in learning more leave us a comment or contact us directly. You can find us on Twitter too @BBKWorldwide.