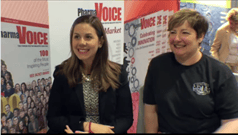 At the 2015 DIA Annual Meeting in June, we sat down PharmaVOICE Editor Taren Grom and Claire Meunier, Vice President of Research Engagement at the Michael J. Fox Foundation for a conversation about patient centricity and the role technology is playing and will continue to play as we move forward.
Technology, like smartphones, mobile apps, wearables and ingestibles, can provide day-to-day transparency to patients, caregivers and physicians like never before – and according to Claire, the patient's perspective is something that companies should be looking to incorporate throughout the drug development process.
On the value that the patient voice brings to the industry, Claire offers, "we're really having the opportunity to inform them about what the lived experience is like, help them skip some of the mistakes they may have made without that perspective, and accelerate drug development, which is the goal." The lived experience of an individual is one of the most important aspects of patient centricity, and technology is playing a key role.
According to Bonnie A. Brescia, BBK's Founding Principal, the implications of these technologies are significant for research purposes as well: "wearables are providing new kinds of data… for example, in Parkinson's, the idea of measuring tremors longitudinally over a multi-week period is something that couldn't be done before the innovations around devices that will measure that day in and day out."
Patient centricity, with its necessary technological components, is a measurable aspect of clinical research. To start, enrollment and recruitment is a way to measure the progress and growing benefits of patient centricity. Speed is another important factor for consideration.
Ultimately for the patient, new treatment and therapies come from conclusive data, and innovative technology expedites the conclusion of this data throughout the research process. As Bonnie says, "if it takes too long to get information pulled together, the accuracy, value and credibility of that data weakens over time." These technological measures protect the integrity of the data collected while giving patients and caregivers a clearer picture of the patients' condition in real time.
For the complete interview, please click here to check out the video.