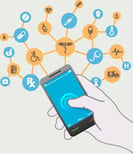 During our recent webinar, "mHealth + Patient Engagement: A New Connected Health Model", our panelists, Dan Bender (Empatica), Larry Suarez (Oracle) and Jaime Cohen (BBK Worldwide) received many thought-provoking questions throughout the hour. While we were able to answer a few on the spot, there were many that we didn't have time to address. Below, Jaime takes a turn answering your burning questions.
If you missed our webinar it's not too late to download the recording. And now without further delay…
Can feedback obtained through mobile health technologies impact the way future trials are designed?
The short answer is yes. Any patient feedback – regardless of the source, is incredibly useful. Staying in tune to what's relevant to your patient population is paramount. Applying these insights to make study design, outreach tactics, interactions and engagements more patient-centric will only further enhance the patient's experience and result in increased retention. While patients are encouraged to provide feedback through focus groups, patient interviews or research, mobile health technologies of today are giving us – through user's permission of course, unprecedented access to data on a personal scale. This level of insight is opening new doors, changing more than just study design but how we interact with patients on whole.
What is the average cost for adding a mHealth component to a clinical trial?
It's extremely difficult to pin-point a "cost" because mobile health strategies can vary dramatically in complexity and scale. What I can say is it will most certainly cost your organization if you chose not to explore this avenue. This situation is very similar to one five or more years back when optimizing online pre-screeners for mobile devices seemed like a "nice-to-have" to many in the industry, until it came to light that 30% or more of online traffic was being lost if this platform was ignored. Attrition is sometimes more costly than adoption. Mobile health technology can come with a price tag, but with health care consumers driving the trend towards these types of technologies, it's an investment we all need to seriously consider. We feel strongly about advancing the use of technology in the clinical trial industry because we see how it can benefit increased engagement for both patients and sites. This is why we are
removing the cost barrier
for our clients and providing our app infrastructure for free to aid in promoting innovation.
Beyond the FDA, will mHealth impact international regulatory hurdles and if so, how?
The impact really starts at home – with your internal regulatory and legal teams. In many cases, these groups are the last to be brought into the conversation with regard to new technologies and tactics. There are many questions surrounding mobile health, some easily answered and some hotly debated. The best advice is to engage with these groups early and often in the process – even if mobile health isn't on the near-horizon for your organization. It soon could be. This type of collaborative thinking leads to more productivity and often times a better end product. And, it will often take the guess work out of what may or may not be approved down the line.

What value does mHealth bring to the patient's study experience?
Mobile health technology provides patients a dynamic "extension of care" platform. One "value-add" often cited by patients who participate in clinical research is the additional time and attention they receive from their medical team. Mobile health technology increases these touch points by delivering personalized, highly relevant information that can enhance the study experience beyond the pill. And the experience doesn't have to be an overly complicated one to be effective. It can range from simple pill reminders to personalized information about their upcoming study visit, or can go as in-depth as content specifically marketed to patients – based on their own data, that can support outlying aspects of their disease, like low-sodium recipes good for patients with high blood pressure. Any opportunity to connect with a patient is an opportunity that should be taken advantage of.
As mobile health technology continues to evolve, more questions around its use within clinical trials will no doubt arise. Please continue to check back on the blog for more insights on mHealth + patient engagement and in the meantime, download our free eBook that delves deeper into how mobile health technology supports patient engagement and recruitment.