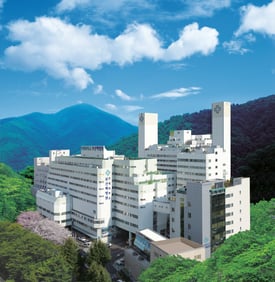 It has become clear that you cannot discuss the future of global clinical research and its innovations without talking about South Korea. In our previous blog post, we delved into South Korea's clinical research infrastructure, and found that it is among the best-equipped countries in the world for hosting clinical trials – with substantial governmental support, joint IRBs, and streamlined drug application and approval processes. In the second half of this series, we will discuss the prevalence of mobile health solutions in South Korea to determine what aspects of BBK's mobile health initiatives resonate most with the population.
As mobile devices become a larger part of our lives, mobile health capabilities are gaining popularity among patients and medical professionals across the globe. As we found in a previous blog post about mobile health in Argentina, countries all over the world stand to benefit from this technology in very different ways. Patient populations vary significantly, not only from country to country, but within countries as well. The adoption of mobile health applications depends largely on how well their features meet the target population's needs.
Not only does South Korea have a strong and vibrant clinical trial infrastructure, it also has an ideal environment for mobile health applications with a population disposed to using them. South Korea currently leads the world in available WiFi locations and broadband internet speed by a wide margin. South Korea has an online penetration of more than 84 percent and ranks as one of the most connected online markets with 41 million active internet users. With 64.1 percent of the population currently connected to the internet through mobile devices, and highly engaged with mobile content, it would be difficult to find a location more suitable for the proliferation of mobile health technology than South Korea.
We recognize that patients have obligations outside of their involvement in a clinical study. With this in mind, we have developed mobile health technology like My Clinical Study Notifier® to deliver important clinical trial information directly to peoples' personal devices, allowing them to easily plan their lives around study participation.
We asked the dedicated Subject Recruitment Team at Inje University Busan Paik Hospital Clinical Trial Center to test a few of BBK's latest mHealth applications to see how they fit into this landscape. The intricacies of clinical trials are numerous, and when faced with a complex protocol, ensuring patient compliance and cooperation can be difficult. When asked about BBKs My Clinical Study Notifier, the experts at Inje University Busan Paik Hospital Clinical Trial Center were particularly drawn to the compliance reminder features – which sends a message to the patient to prompt them to take their study drug – saying "This is very good, because late phase trials, such as hypertension, have a long medication period, and often the patients become non-compliant because they forget [to take their medication]… this should be mandatory."
Additionally, the Subject Recruitment Team lauded the appointment reminder feature of My Clinical Study Notifier® – which reminds the patient to input whether they will attend their appointment or not – saying, "This is also good. At present, the study nurse must call each patient. Perhaps it would be possible that if they don't respond to the appointment reminder, then the nurse can give the patient a call to remind them." If the app can turn the laborious task of calling each patient to remind them about their appointment into a follow up measure to the appointment notification feature, a lot of time and resources could be saved.
South Korean clinical trial patients clearly serve to benefit from mHealth applications, but physician-facing technologies are equally suitable for use in the country's clinical study operations. Our correspondents at Inje University Busan Paik Hospital Clinical Trial Center responded positively to BBKs site-facing app My Protocol Pal® and its ability to display important, real-time metrics like new and total referrals "this is great for keeping on track and focusing on study targets."
While there are mHealth applications that can satisfy a wide range of challenges inherent to clinical research, it's important to recognize what technology is most appropriate for the location. According to our correspondents in South Korea, facilitating travel within the country is not a high priority since "it is such a small country and patients are very local," so travel apps like BBK's RSG Arrive® may be more appropriate for larger countries where patients are less available. Additionally, many of South Korea's hospitals have a payment system that allows them to automatically reimburse clinical trial participants. In light of this, BBK's RSG Card® may be more suitable for other countries where payment is not built into their clinical trial infrastructures.
Mobile health applications are quickly changing how clinical research studies operate, and it is important to see how this technology can enhance an already sophisticated, top-tier clinical research environment like South Korea. As mHealth technology continues to expand, we will be assessing its capabilities, as well as its limitations, in the context of the global clinical research community. For more on mobile health applications, download our free eBook, and follow us on Twitter at @bbkworldwide.