BBK's Founding Principal and CEO Joan F. Bachenheimer discusses how BBK can help clinical trial sponsors respond to the immediate challenges resulting from the COVID-19 outbreak.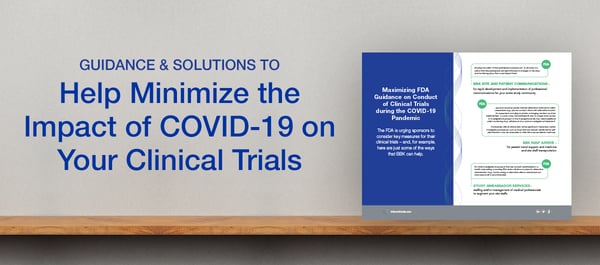 We are closely monitoring the COVID-19 outbreak and its impact on clinical trial patient recruitment, engagement, and compliance. As the health and wellbeing of patients remains our priority, we've outlined key solutions clinical trial sponsors can quickly deploy to enhance compliance and ensure patients are able to continue with their clinical trial participation.
Please click here to download our support guide, which features solutions to help clinical trial sponsors minimize risk to clinical trial timelines.
Over the next few weeks, we will be sharing real-time insight and updates to help sponsors navigate this challenging time. Some of the topics we will be addressing include:
What COVID-19 means for clinical trial patient engagement
Best practices for ensuring patients arrive to visits safely
How technological solutions can help patients and site staff
Patient safety and risk mitigation
Implementation without added site burden
Media planning and referral management
Establishing an effective multi-disciplinary task force
Crisis communication approaches
In addition to hearing from BBK experts, we will be featuring insights from regulatory and public health experts.
As rules and regulations change – on national, regional, and local levels – our goal is to help you stay as informed as possible with information and solutions to meet the challenges ahead.