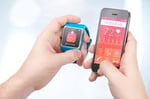 With more than half of 2015 behind us it is clear that this is the year of wearables. When Fitbit, Inc. hit Wall Street in June it was the third largest U.S. IPO of the year according to Dealogic. While this fitness-tracking wearable developer is now valued at around $4.1 billion and poised for growth, what does this say about the future of wearables in the healthcare market? What does the long-term viability look like for this market?
Andrew Flanagan, a 25-year healthcare veteran and CEO of Telcare, a provider of the world's first cellular-enabled blood glucometer, diabetes mobile application and comprehensive HIPAA compliant cloud platform, recently weighed in on this question during an interview with HIT Consultant. He states that "Fitbit's spectacular success is based on them constantly improving what they do every day – and that's producing a world-class, consumer-oriented wearable. As Fitbit continues to do just that, the entire market for wearables is just beginning. With its surge in new funding, Fitbit will continue what they've been doing. They will develop more devices that do more for healthcare, and start to innovate in use cases and areas that they previously couldn't afford to touch. I see a particular opportunity for the wearable health industry in combination devices, and that's where I predict the market will go next."
As the wearables industry continues to grow, we are seeing its development move into a more comprehensive use for monitoring and managing health. Telcare recently conducted a survey that found 88 percent of Americans want access to real-time data when managing a chronic disease. mHealth and especially wearables are clearly moving in this direction to support both consumer desires and to meet the evolving needs of physicians, who are relying more and more on mHealth to help monitor and treat their patients.
While the wearables market just took off a year or two ago, we have already seen tremendous growth and innovation. There are multiple examples of consumer devices contributing medical-grade data to help people better monitor and maintain their health.
Flanagan goes on to state that "It's important to note that when wearables companies like Fitbit begin to cross into the intersection of true care delivery, FDA regulation will be expected at some point in the process. FDA clearance on connected consumer health devices will usher in a new generation of health that will contribute to patient treatment in a clinical setting."
For more on the mobile health industry including wearables check out these recent blog posts: