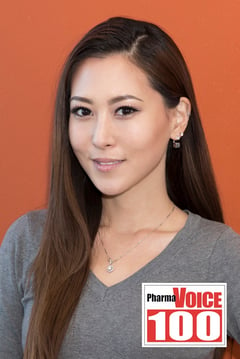 BBK Worldwide is honored to announce that our Creative Director for Patient Experience and Engagement, Jessica Kim, has been named to the 2020 PharmaVOICE 100 list of the most inspiring people in the life sciences industry as a patient champion. The award recognizes Ms. Kim for how she inspires and motivates those around her, her influence as a corporate leader, and her positive impact on the industry through her actions.

The PharmaVOICE 100 is an annual list of individuals recognized for their positive contribution to the life sciences industry. Nominated by thousands of PharmaVOICE readers throughout the year, the PharmaVOICE 100 represent a broad cross section of industry sectors including pharmaceutical, biopharmaceutical, biotechnology, contract research, clinical trial, research and development, patient education, patient recruitment, advertising, technology, and many others.
A nine-year veteran of the agency, Ms. Kim applies her expertise and creativity to drive innovation in clinical trial patient enrollment and engagement. Her efforts help remove barriers to participation while improving the patient's clinical trial experience. Among her milestone accomplishments, Ms. Kim has helped BBK transform its app platform into a robust portal, engaging patients through text messaging, gamification, and appointment / medication reminder capabilities.
Recently, Ms. Kim helped spearhead Study-Life Balance – a new construct that leverages patient-centric solutions to help patients more easily integrate clinical trial participation into their daily lives. By putting, clinical trial participation within the context of the patient's entire life experience, Study-Life Balance marks an evolution in the patient experience.
Ms. Kim joins 11 other BBK professionals who have been recognized by PharmaVOICE since the awards began in 2005.