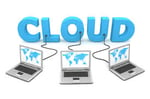 Not that long ago, the healthcare sector was considered an IT laggard. Today, cloud-based infrastructures and solutions are the norm.
Why the paradigm shift?
Building and operating data centers is complex, expensive, and resource-intensive.

The network is fast and strong.

The removal of capital costs of hardware and infrastructure from budgets releases a great deal of capital for other more pressing needs.

The enactment of the HIPAA Omnibus rule, finalized in January 2013 and effective as of September of the same year, forces the vendor community to accept the responsibility for Protected Health Information and thus changed the paradigm around the feeling of regulatory protection granted to healthcare organizations when contemplating a "loss of control" of their data that was feared as they anticipated moving functions and capabilities to the cloud.
But is it secure?
A fundamental misconception with regard to the cloud is its level of security. The truth is the cloud is as secure as any other data storage infrastructure, and if implemented correctly, can be even more secure and offer a greater level of privacy. This is achieved through data encryption both when data is in transit and when at rest. The cloud infrastructure is not physically reachable by human beings, only by means of authentication and authorization, which provide yet another layer of security.
The cloud and healthcare: what's next?
In five short years the cloud has evolved from a curious, unproven concept to a way of life in healthcare. In a recent HealthcareIT News article, Brett Furst, CEO of Ann Arbor, Mich.-based ArborMetrix states that "Cloud technology is very much in the drinking water of any IT decision making," pointing out that more than 80 percent of healthcare organizations have some sort of cloud-based solution.
Advancements in technology and more widespread acceptance from providers have made it an integral part of the healthcare IT landscape. With questions about security, functionality and dependability asked and answered, vendors are now turning their sights on new horizons for utilization. And, based on the potential for infinite computing power and storage, the sky appears to be the limit for future applications and system suppliers.