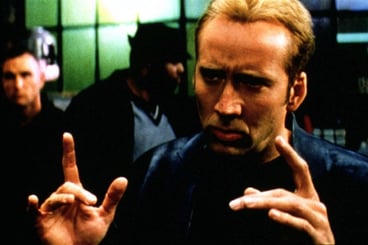 Picture this: a clammy Nicolas Cage sits hunched forward in the driver's seat of a $5m hypercar, gripping the top of the steering wheel and staring at an undefined point just beyond the camera.
His grip on the wheel tightens and he punches the accelerator.
In a cacophony of protesting rubber and tire smoke, he's Gone in 60 Seconds.
Sound familiar? I'm making a tenuous but spellbinding opening remark to get our blood flowing about advertising. Not just advertising in general but also, more specifically, patient recruitment advertising.
During the mad men era, the standard TV ad was 60-seconds. As the Internet has become the de facto commercial engine powering our economy (in many ways replacing television in the competition for our attention,) you may have become strongly aware that the way that we consume advertising messages has been evolving. Now we can easily swat away messages that are irrelevant or unappealing to us with just the click of a mouse button, without having to dutifully sit through the experience as our debt to receiving the content that we desire.
It has been widely reported that millennials now have shorter attention spans than Goldfish. How do we know this? Well, the average attention span for the notoriously ill-focused goldfish is nine seconds. From an Internet advertising perspective that amounts to an eon.
And yet we also know that if you are in the mood to take the red pill, and fall down the internet rabbit hole, we have the capacity of voraciously consuming information. We've all been there, at the end of the internet, resplendent in our new found knowledge (sometimes wishing we'd taken the blue pill) – after having gone online to look for a cheap pair of socks.
To unify these competing phenomena – well that's where the concept of Bite, Snack, Meal comes in.
Bite Snack Meal really boils down to a content editing strategy that was first put forward in 1997 to accommodate the varying "appetites" for information of different Web site patrons.
The "Bite" has become no more than a headline and a tagline – a six-second "bumper" or short ad that is over before you even realize that you are being advertised to. The bumper quickly reaches out to the consumer (typically in an energetic way) to establish interest without being intrusive on your time. If you're not interested, you can move on with your day without having your attention span mugged. If it piques your digital tastebuds, then down the rabbit hole you go.
If the bite whets your appetite, then the "Snack" tides you over. If you are titillated by the flavor of what's on offer, and you happen to click on the ad, you are lead to the "Snack". The snack might be an amount of information that gives you a content overview. It brings you further along to establish whether you really want the full nine yards.
The bite or snack can both be linked to the "Meal". This is a full-on discourse that internet users will consume if they are actively interested in the topic. In restaurant terms, it is intuitive to believe that serving a full meal to everyone (regardless of knowing how hungry they are) is inefficient and expensive. Even if a patron is ravenous, the good old amuse-bouche only serves to fire up the desire to consume second-helpings.
From a clinical trial perspective, some of the most effective, efficient ways of reaching patients are now digital. Social media outlets are now ubiquitous (Facebook, YouTube, Craigslist, Instagram, etc.) But to create greater efficiency and ROI – as the competition for our attention becomes more and more fierce – we must adopt these cutting edge approaches to generating clinical trial interest, or risk becoming lost in the clutter.
With Uri Geller – like clairvoyance I predict that you will Google "Bite Snack Meal" immediately after having finished this article. And then you'll Google "Uri Geller". See you at the end of the Internet.
Contact us today at info@bbkworldwide.com for more information on cutting edge digital marketing strategies.