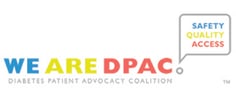 BBK Worldwide was recently chosen by the Diabetes Patient Advocacy Coalition (DPAC) to create a new corporate identity and brand to reflect the new organizations commitment to focus lawmakers' attention on diabetes patients and their needs.
Founded earlier this year, DPAC is a non-partisan, not-for-profit organization established to amplify the diabetes patient voice to U.S. decision makers, understanding that those voices are critical to defining successful policy. Through a combination of lobbying and constituent awareness and education campaigns, DPAC's goals are to secure the safety and quality of care, medications, and devices needed for patients living with diabetes – and the ability to access them.
With decades of experience supporting diabetes research, we have a shared interest in improving the lives of diabetes patients. DPAC turned to us in large part because of our longtime experience in and commitment to patient advocacy and engagement, and we're so excited to be working with them.
For more please view our press release on this news. And to learn more about our adaptive marketing approach to increase patient enrollment and retention, revisit our post from March on the topic.
Next month, Christel Marchand Aprigliano, DPAC VP and co-founder, will join BBK and The Michael J. Fox Foundation at the DIA 2015 Annual Meeting, June 14-18 in Washington, DC for a panel discussion titled, "Are You Patient Centric? Why Your Answer Must Be Yes." To be held on Monday, June 15 at 4:15 p.m., BBK Co-founder Bonnie A. Brescia will moderate what promises to be a thoughtful discussion on how a patient-centric approach can be employed not only to the benefit of patients but to the entire clinical trial process. If you aren't planning to be at DIA be sure to join in the conversation online with #BBKatDIA.