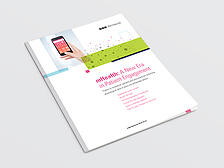 We're pleased to announce the availability of our latest eBook – mHealth: A New Era in Patient Engagement. One of today's hottest industry buzz words, the idea behind the book was to cut through the hype and offer useful advice and practical considerations relating to mHealth as it affects those of us working in clinical trials.
We believe that mHealth – apps, wearables, health IT – will continue to provide invaluable pathways to improved patient enrollment and engagement, and access to better, real-time patient data – and that these technologies will come together to help all key stakeholders and improve study processes across the board.
Bottom line: The key to better patient care is better information. For patient recruitment and engagement, mHealth is an increasingly important piece of the marketing mix that can no longer be ignored. It's the new baseline, a minimum requirement to reach and engage with patients in today's world.
Our first in a series of eBooks on this topic, we hope you find it to be a useful guide as you continue to navigate this new mobile landscape and look to implement the right mobile strategy for your study today.
Download your free copy today and join the conversation on Twitter with the hashtag #BBKmHealth.