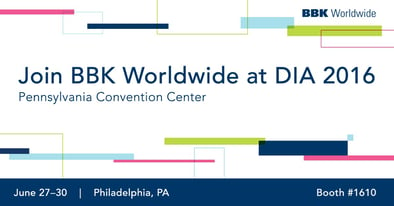 We are once again looking forward to an insightful week at DIA 2016 52nd Annual Meeting, which starts this Sunday in Philadelphia. With over 7,000 life sciences professionals from across all disciplines expected to attend, it's always a week full of inspiring discussions on advancing research and development in science and health care.
It's an important opportunity to meet attendees and connect with many of our clinical research and technology partners. Last year, we were pleased with the positive response to our work, presentations and booth. Our Creative Team loves to concept and design the DIA booth every year and this year was no exception. This year, we intend on delivering an entirely unique and immersive experience so our visitors can interact with our patient recruitment and engagement services and technologies like never before. Be sure to stop by Booth #1610 for the full experience.
Additionally, newly named BBK President and Chief Innovation Officer Matt Kibby, and Be the Partner CEO Thomas Klein will be presenting "Reimagining the Patient Experience through mHealth Technologies" on Monday, June 27 at 4:30 p.m. This Innovation Theater discussion will highlight the role that mHealth plays in building patient-centric recruitment and engagement strategies for clinical research, and takes a look at where we've been and share insights on what the future holds.
Last but not least, we'll be making a series of announcements during the meeting. So keep up here and follow along on Twitter @BBKWorldwide using the event hashtag #DIA2016.