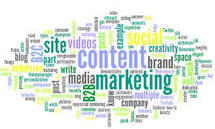 The average person spends nearly 4.4 hours of leisure time in front of screens each day. People are online, on their phones or using their tablets in increasing amounts. Given this statistic, it seems natural for there to be a shift from native advertising to content marketing. It's best to reach consumers where they already are and to push relevant content to them directly to pique interest.
Approximately 82% of the 65 million online boomers and seniors use the Internet to research health and wellness information (Immersion Active). And when it comes to health and wellness, Facebook continues to be the leading vehicle to publish healthcare content according to MedNet Technologies.
Given how people are spending their time, the potential patient population, along with the rest of America, has grown increasingly desensitized to direct advertising efforts. Can you recall which billboard you passed on the way to work this morning, or what you heard advertised on the radio? The answer is probably no. This has led to a surging investment into content marketing efforts, which have become one of the most important and critical elements in digital marketing. In fact, it has grown to become one of the most powerful tools available for doing business and connecting with targeted customers through the Internet.
In terms of patient recruitment for clinical trials, content marketing can be a successful tool – particularly when coupled with more traditional advertising strategies. Unlike most B2B and B2C marketing campaigns, today's regulatory environments make it difficult to engage with potential patients as interactions can be challenging to monitor. That being said, Institutional Review Board (IRB) approved, fact-driven content pieces such as articles, infographics, and blogs can be safely shared on social channels to increase reach and promote study awareness. Inquiries to a study website can be easily tracked back to engaging content published on other websites, including social media.
Understanding that patient recruitment campaigns do not carry the same weight as years of brand awareness activities – identify relevant, timely topics in the marketplace that will bring attention to your study and encourage potential participants to learn more. Content marketing works effectively to both build study awareness and increase engagement with targeted audiences. If executed correctly, this form of advertising will lead to more meaningful interactions with patients that are looking for relevant information pertaining to their disease.
We will continue to explore the benefits of content marketing for patient recruitment on our blog. In the meantime, follow us @BBKWorldwide to continue the conversation online.