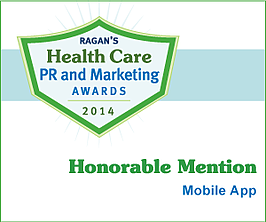 We are excited to announce our recent Honorable Mention for My Clinical Study BuddySM in the "Best Mobile App" category of the 2014 Ragan's Health Care PR and Marketing Awards! Designed to integrate into study participants' daily lives, My Clinical Study BuddySM is a key competitive differentiator in today's increasingly shifting and ever-changing mHealth and clinical landscape. Underscoring its adaptive model, the mobile app utilizes a technology-based solution that can change in real-time and adjust to sponsor's needs in order to help reduce overall trial costs and maximize patient engagement.
Fueled by our innovative passion, we are honored to be recognized for our work and stand proud to be showcased among such talented contenders. Congratulations to all the winners – see you at next year's event!
About Ragan Communications
For more than three decades, Lawrence Ragan Communications, Inc., has been the leading publisher of corporate communications, public relations, and leadership development newsletters. The Ragan brand now includes over 16 targeted newsletters in the areas of employee communication, organizational writing and editing, sales and marketing, media relations and motivational management.. Ragan conferences draw more than 3,000 professionals annually and provide attendees with access to leading communicators, best practices and rich networking opportunities.