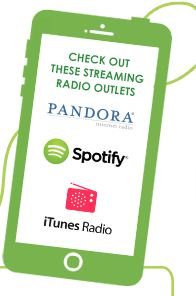 Streaming radio adoption has been astronomical around the world. People tune in every day on their phones, tablets, and desktops (BBK even has its very own Spotify playlist!). This gives you the perfect opportunity to get your clinical study in front of the right people – straight to their earbuds! Oh... did we forget to mention how cost-effective it is?
So whether you want to ramp up your strategy or take the leap, we know first-hand the success global streaming radio has on patient recruitment. Here are some key insights to get your head bobbing...
60% of listeners keep their Internet broswer up while streaming...
Now's the perfect time to engage them! With streaming radio, you can use banners and even videos – driving potential patients straight to your online screener. Now watch those referrals come in!
45% of the population listens to global streaming radio...
That's a lot of ears – and a lot of people who could potentially be eligible for your study. But it doesn't stop there. That percentage will double by 2015. That's right, we said DOUBLE.
20+ countries are available through one source...
With that number growing, that means more languages and more regions – so go ahead, zero in on your audience by age, gender, and location to reach the right potential patients for your study.
So what are you waiting for? Let's make a patient recruitment playlist together! Global streaming radio is the perfect tactic to complement your already existing strategy. It's versatile and has the reach your study demands. Click here to get in touch with a patient recruitment expert and crank the volume up on your enrollment numbers!