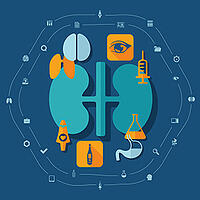 Today's blog is brought to you by Kris Sarajian at BioPharm Clinical. Last week, BioPharm Clinical teamed up with BBK Worldwide, a valued partner for nearly a decade, to deliver a joint webinar on how new types of patient data are helping clinical operations teams improve research study feasibility and investigator selection in order to maximize patient recruitment (In case you missed it, you can get the slides and watch a recording on the BioPharm website).
Over 100 attendees joined in to listen to the presentation, tour the BioPharm Clinical +Precision database, and participate in an engaging Q&A. Here's some of what we learned:
Study Feasibility
The ability to spend less time gathering data and more time applying it by using a centralized tool enables patient recruitment professionals to answer stronger and more valuable questions regarding new studies to drive reliable recommendations and enrollment projections – for example:
Do investigators feel the enrollment goals for a particular protocol are feasible?
What is the level of concern regarding potential challenges such as age limitations and surgery or post-hospitalization?
Which specific aspects of safety would be problematic?
When it comes to ongoing studies, you have fewer options to make changes but you can examine activity level, , and various qualitative factors of motivation to score projections and optimize enrollment and retention success across site groups (e.g. using BBK's own TrialCentralNet℠).
Site and Investigator Selection
Potential investigators must be evaluated on more than simply patient counts. By assessing a wide variety of critical success factors, you will gain confidence and a more comprehensive sense of whether a potential investigator is likely to achieve your goals. These essential variables include:
Granular demographic details linked to specific geographies, sites, and individual investigators
Expertise and scientific contributions within the given indication
Prior clinical trial experience and detailed prescription records
Current investigator and patient availability to focus on your study
Relationships with KoLs, regulatory red flags, etc.
It's important to monitor the investments we are making in these models to predict site and investigator success by combining the projections from +Precision with BBK's scoring algorithm based on numerous assessments. Even for those who scored high, survey responses may help you eliminate inappropriate investigators due to concerns over safety, visit schedule or specialty. At times you may even consider outliers who have fewer patients but treat a higher percentage each month.
In an industry that values statistical proof above all things and in an age where the costs of clinical R&D are placing greater value on finding more efficient ways to decrease time-to-market, it is imperative that the right decisions are made at the right time. BBK's scoring algorithm along with the expansive information found in BioPharm Clinical +
Precision
can help you identify the best matches for your clinical research study.