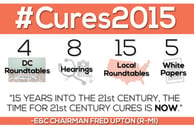 During the first 25 years of the Orphan Drug Act (passed in 1983), only 326 new drugs were approved by the FDA and brought to market for all rare disease patients combined. Prior to the Orphan Drug Act, fewer than 10 treatments had been developed by industry for rare diseases. This is progress however; there is a lot of work to be done.
To meet this challenge the 21st Century Cures Initiative was launched in April 2014 to bring together patients, providers, innovators, regulators and researchers from across the country to provide Congress with recommendations on how to accelerate the discovery, development and delivery of promising new treatments for patients. Under this initiative, the U.S. House Energy and Commerce Committee proposed a draft bill in January that if passed, will reform significant aspects of the FDA and the American drug and medical technology regulatory regimen. Interestingly, the draft was composed by parties on both sides of the legislative fence.
This draft bill addresses five key points:
Title I: Put patients first
Title II: Build a foundation for 21st century medicine
Title III: Modernize clinical trials
Title IV: Accelerate and streamline the regulatory process
Title V: Modernize medical product regulations
Most exciting about the promise of the bill is the focus on what can be done as opposed to what cannot be done. The life sciences industry will always be grounded by regulatory requirements, but this bill gives us a glimpse of what could and should be – regulation catching up to – and not hindering – science.
For a company like BBK Worldwide, a company dedicated to putting patients first, Title I holds much promise. That being said, patient engagement could get lost among the more concrete titles under the proposed bill. Our hope is that if passed, patients will be used as a filter to better assist in moving through other components of the bill.
The construct of a cure lies within this draft bill. A medical cure and perhaps just as important, a step toward a cure for the lengthy regulatory process the industry faces. But like most legislation, controversial provisions and/or funding, among other things, could stop it in its tracks.
Today is the one year anniversary of the launch of the 21st Century Cures Initiative and slowly but surely, progress is being made. While in its very early days, we will be following its progression closely. Get involved in the conversation with hashtags #BBKPatientsFirst, #Cures2015 and #Path2Cures.
Oh, and if you don't have time to read through the 400 page bill a synopsis can be found here.