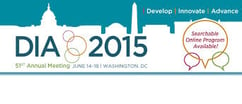 Are you planning attend the DIA Annual Meeting later this month in Washington, DC? For those of us working in drug research and development, it's a great time to connect with the people and organizations working to accelerate the development of new therapies and enhance patient care.
And with more than 7,000 attendees, 450+ exhibitors and 200+ forums, symposiums and workshops, it's always a busy and informative week. If this is your first time at DIA, there's a lot to take in, so plan ahead and make the most of your time.
Review the program lineup and the show's floor plan in advance. Know what you want to learn about before you hit the show floor each morning and set an agenda. From patient centricity and mHealth to rare disease and patient engagement, there are several sessions being offered on these and other topics, so plan ahead and sketch out a plan.
Join the conversation online at #DIA2015. Want to attend a session but have a conflict? Check in on Twitter and see what people are saying. Follow industry publications like Applied Clinical Trials (@Clin_Trials) and PharmaVOICE (@PharmaVOICE). Several reporters and editors will be in attendance and will likely tweet session highlights, as well as top industry news and announcements. It's a great way to stay informed.
Be prepared to be on. DIA is a 24-hour event. When the show floor closes the networking is just getting started for attendees over dinner and drinks. Evening events are an opportunity to meet more potential leads and get to know your industry peers in a more relaxed setting.
And last but not least, swing by the BBK booth (#2026) or attend one of our sessions on mHealth, patient recruitment, rare disease and more. We'll be demoing our latest patient recruitment and engagement solutions and giving away some pretty cool t-shirts. We'd love to see you. To schedule a meeting, contact Jaime Cohen at 617-630-5562 or jcohen@bbkworldwide.com.
While we hope to see you there, if you can't make it feel free to follow the conversation online using #DIA2015 and #BBKatDIA.