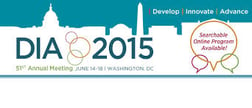 The 51st Annual DIA Meeting kicked off yesterday in Washington, DC. So far it has been a whirlwind of presenting, networking and having fun at our booth (#2026 come see us)! DIA is the perfect time to announce the latest in company news, and we have no shortage of announcements to share this year.
We launched this year's DIA by announcing the extension of our mHealth suite with My Research Mate [SM], a live streaming video app platform developed to educate consumers about cutting-edge treatment options and available clinical research studies, and the importance of clinical research more broadly. The app is intended to offer an enhanced experience through live video interactions with researchers, thought leaders, advocacy groups and even other patients and caregivers – of utmost importance to those struggling with rare and incurable diseases where research advances represent the only potential option for treatment.
In addition to My Research Mate [SM], today we announced the appointment of Toshio Mori, our new managing director of Japan, and the opening of our Tokyo office. Mori will lead business development and help drive sales and marketing in Japan, and will also be responsible for establishing and growing our new office. With more than 25 years of pharmaceutical and medical device experience, Mori is highly qualified to help us further extend our global reach and support the increased demand for clinical research in Japan.
And as if that isn't enough good news for one week, we also announced this morning the launch of RSG® Arrive, BBK's full-service concierge program created to more fully support clinical trial patients and operationalize travel for pharmaceutical companies – especially important for rare disease studies where recruitment of patients extends well beyond the area of the site, often into different countries. The latest offering within the company's RSG® Suite of engagement services, RSG Arrive leverages industry best practices to offer streamlined adherence and workflows, all at a reduced cost. The program has been implemented across several global studies, and sponsor and patient feedback has been overwhelmingly positive.
We will be at DIA until the 18th and available to discuss these announcements at booth 2026. Be sure to stop by and introduce yourself. We will even give you a free custom t-shirt (though they are going fast)!
If you're at DIA and want to get involved in the conversation online, be sure to use #DIA2015 and #BBKatDIA and follow BBK on Twitter @bbkworldwide.