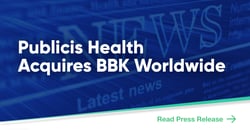 We are very excited to kick off the new year with the announcement that we have been acquired by Publicis Health, the healthcare communications leader that transforms healthcare marketing and communications into healthcare engagement.
Together, we share a commitment to the clinical trial experience and to enhancing understanding and access for all, and we look forward to joining the Publicis Health network. Our mission remains unchanged, as does our commitment to supporting you in advancing your clinical R&D efforts.
Our day-to-day operations remain the same, and we will continue to lead our dedicated and talented team under BBK Worldwide.