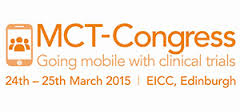 Members of the BBK Worldwide team periodically attend industry events throughout the year. We love to network and learn from our peers, and when we are invited to speak we jump at the opportunity to bring our own expertise to the table and join in the conversation.
That's why I am excited to speak at MCT-Congress, taking place March 24 – 25th in Edinburgh. MCT-Congress is dedicated to the business of mobile technology in the clinical trial space and this year's event will focus on the practicalities of adopting mobile technology in clinical trials. Looking at the field from all perspectives, from the patient right through to sponsor, the program is set to challenge norms and offer ideas as to how the mobile industry can increase its speed of integration within the clinical trials space.
I will be presenting on mHealth: Channeling On-demand Feedback to Move You Forward. As a new connected health model, mHealth provides the clinical trial industry with ways to collect data that have never before been possible. My presentation will explore how, through mobile technology we can strategically set up new data streams, interpret the data as feedback, and put it to swift use to gain the attention of and motivate investigative site staff – the driving force behind patient recruitment and engagement – and ultimately derisk enrollment.
This year's MCT-Congress promises to be a great event. Expect a recap from me here on the blog upon my return. In the meantime, get involved in the conversation using #MCTCongress and #mHealth.
Additional resources include our free eBook - mHealth: A New Era in Patient Engagement.