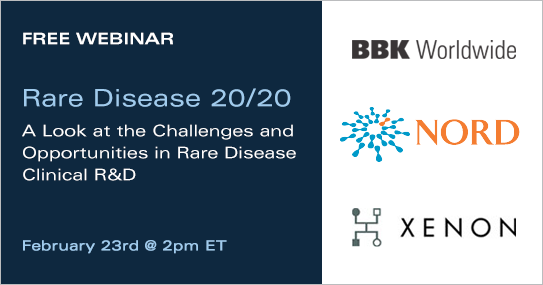 To raise awareness with policy makers and the public of rare diseases and of their impact on the lives of patients and their loved ones, the National Organization for Rare Disorders (NORD) established Rare Disease Day® in the U.S. almost seven years ago. Since then, people all over the world have come together to inform the public and engage with policy makers, researchers, health professionals and more, affecting positive change for all those impacted by rare diseases.
Committed to improved clinical trial processes and services for more than thirty years, BBK has worked with many sponsors in rare disease – and we're thrilled to host a webinar on the topic later this month. On Tuesday, February 23 at 2:00 p.m. ET / 11:00 a.m. PT, BBK Worldwide will host Rare Disease 20/20: A Look at the Challenges and Opportunities in Rare Disease Clinical R&D and we are so pleased to be joined by thought leaders from NORD and Xenon Pharmaceuticals to discuss the present state, and future goals of orphan drug research.
About our panelists:
Pamela Gavin, Chief Operating Officer of NORD, sets the organization's strategic direction and oversees the implementation of the programs and services that support the rare disease community. Before NORD, Pam worked to execute healthcare programs aimed at improving safety and delivery. For the federal government, she implemented a new web-based portal for safety data reporting to FDA and NIH, for which she was honored for outstanding leadership.

Dr. Paul Goldberg, Vice President of Clinical Development, Xenon Pharmaceuticals, has a keen interest in the diagnosis and management of rare genetic disorders with a particular focus on developing novel therapeutics for rare disease, and has held his current role for more than six years. Prior to that, he held senior clinical roles at Xenon including Senior Director, Clinical Biology and Target Discovery, and Senior Director, Scientific Programs. He also currently works at the University of British Columbia as a Medical Geneticist.

Bonnie A. Brescia, Founding Principal, BBK Worldwide, is widely recognized for helping to shape the recruitment discipline and is a preeminent voice for patient centricity. Bonnie's insights regarding the global clinical research community inform the industry and help fuel BBK's leadership, innovation and global expansion.
We are looking forward to a great discussion and hope you'll join us! Register here.