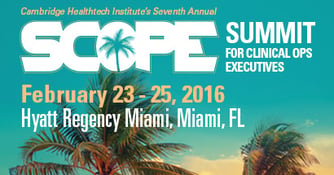 BBK Worldwide is very excited to be participating in the Cambridge Health Institute's 7th Annual SCOPE Summit for Clinical Ops Executives. Taking place February 23 – 25 in Miami FL, SCOPE will offer three days of in-depth discussions addressing the operational, technological and data-related aspects of clinical trial planning and management, with 12 different conferences, 4 pre-conference workshops and 2 symposia.
BBK Founding Principal Bonnie A. Brescia will be addressing important aspects of patient engagement in her presentation Are Your Investigators Championing Your Study within the Medical Community? A Strategic Look at Maximizing Referring Physician Outreach on February 23 at 12:05 pm. She will expand upon BBK's research initiative, featuring responses from specialists in over 30 countries, revealing our attitudes and practice regarding matching their patients with clinical trial options – along with practical information about what clinical teams can do to maximize the likelihood that they will refer patients to your study.
Aaron Fleishman, our technology and product innovation expert, will be delivering his presentation What's Inn- and Out-ovative in Patient Recruitment on February 24 at 4:30 pm. In this presentation, Aaron will be discussing the birth of social media, the rise of digital media, and what innovations will be influencing the future of patient recruitment.
Maria Cipicchio, BBK's patient engagement and recruitment operations manager, will chair conferences on global site selection, feasibility assessment and site management, as well as a session on patient recruitment and engagement strategies for rare disease clinical trials.
Additional details, including all session times, can be found on our website, and at www.scopesummit.com.
Join in on the conversation with @BBKWorldwide and @SCOPEsummit on Twitter, and check back on the blog in March for a full recap of our experience at SCOPE 2016!