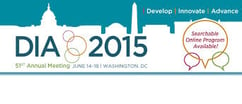 BBK Worldwide is once again looking forward to attending Drug Information Association 2015 (DIA), which this year will take place from June 15 - 18 at the Walter E. Washington Convention Center in DC. We always love attending this annual event – the industry's largest, which attracts more than 7,000 attendees each year. DIA provides a global, unbiased platform to raise the level of discussion to facilitate innovation that will change the future of healthcare.
Not only are we working on our annual booth reveal, which will highlight our patient recruitment and engagement services and technologies, (be sure to check it out – booth #2026, and stay tuned into our blog and Twitter feed @BBKWorldwide for a sneak peak), we will be participating in five sessions this year, which will span everything from patient centricity and mHealth to bringing clinical trials into the 21st century.
Below is a full list of where you'll find us at this year's event. We also have some big announcements planned for the show… but you'll have to wait until the main event to learn more.
Title: "Are You Patient Centric? Why Your Answer Must Be Yes."
Speakers: Bonnie A. Brescia, Founding Principal, BBK; Claire Meunier, VP, Research Engagement, The Michael J. Fox Foundation; and Christel Aprigliano, CEO, Diabetes Collective
Date/time: Monday, June 15, 4:15-4:45 p.m.
Title: "Developing Online Communities: Perspectives for Site and Patient Engagement"
Speakers: Bonnie A. Brescia, Co-founder, BBK (Chair); Nancy Mulligan, Senior Director, Operations, Patient and Physician Services, UBC; and Vladimir Pyagay, Clinical Solutions Manager, Transperfect
Date/time: Tuesday, June 16, 1:30-2:30 p.m.
Title: "mHealth: A New Era in Patient Engagement"
Speaker: Matt Stumm, Principal, Creative and Media Strategy, BBK
Date/time: Tuesday, June 16, 3:00-3:30 p.m.
Title: Bringing Clinical Trial Practices into the 21st Century
Speakers: Matthew Stumm, Principal, Creative & Media Strategy, BBK; Judith Teall, RN, Director of Clinical Excellence, Exco InTouch; Cecilia Tran-Muchowski, Senior Clinical Program Manager, Gilead Sciences; and Jennifer M Allen, BSN, MBA, Senior Manager, Client Engagement, UBC
Date/time: Tuesday, June 16, 3:30-5:00 p.m.
Title: "Rare Diseases: Patients, Health Care Providers, Caregivers and Advocates as Equal Partners in Clinical Trial Process"
Speakers: Jaime Cohen, Strategic Consultation & Research, BBK; Barbara Szymaszek, Associate Director, Regional Clinical Ops (Chair), Bristol-Myers Squibb; and Patricia Furlong, BSN Founding President and CEO
Date/time: Wednesday, June 17, 3:30-4:30 p.m.
If you're looking to read up on any of these topics prior to DIA please download our free eBooks on patient centricity and mHealth. We will be exploring our presentation topics in more detail on the blog as we get closer to DIA so please continue to check back. And get involved in the conversation online with #DIA2015 and #BBKatDIA.