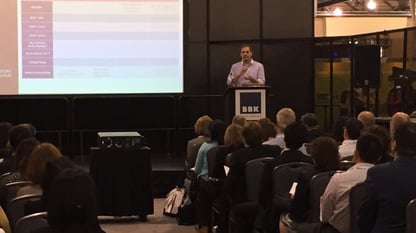 Yesterday was the final day on the exhibition floor at the DIA 2016 Annual Meeting. Between the thought-provoking presentations, networking, and interacting with attendees at our booth, it has been, as it always is, a great experience. Adding to the buzz at our booth and Innovation Theater presentation – this year, we were pleased to make two big announcements..
On Monday, we announced major updates to our mobile app platform. Powered by TrialCentralNet®, the only Patient Recruitment Management System (PRMS) of its kind, the comprehensive mobile app platform allows any clinical research or healthcare organization, including sponsors, CROs, and advocacy groups, to develop and utilize custom mobile apps in weeks instead of months, and at a small fraction of the cost of in-house development.
On Tuesday, we announced our partnership with Apptomics, a provider of digital health solutions for patients living with chronic neurological conditions, to develop a new suite of mobile apps for patients, caregivers, physicians and payers. The first digital health solution, iMotor, measures and monitors motor performance for patients with Parkinson's disease and will be utilized in a randomized Parkinson's study later this year. We're really excited to continue our work with Apptomics in the coming months.
Thanks to everyone who contributed to another great conference. Let's do it again next year!