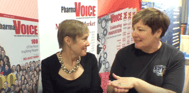 In the industry of clinical research "we're finally having our sort of Copernican moment" says Bonnie A. Brescia, co-founder of BBK Worldwide. The patient is now the center of the universe around which scientific research revolves. Although, this idea was not always commonplace, as Bonnie recalls "maybe 20 years ago, the term 'patient' wasn't even allowed in our discussion. It was the time of subject accrual."
Now in 2015, with the idea of patient centricity fixed in the discourse of clinical research, what exactly does that mean for the patients, scientists and physicians involved?
Christel Marchand Aprigliano, CEO of the Diabetes Collective and founder of The Diabetes Unconference, believes that when it comes to next steps in patient-centric clinical research, more communication is essential: "The future of a patient-centric clinical trial is based on a continuous feedback loop between the patients and the key personnel that run those clinical trials." What does this mean? For one, patient advisory boards, so that patients have the opportunity speak up at any point throughout the clinical trial. Patient-centric technology also contributes to the success of clinical research. With the increasing sophistication and accessibility of technology, demonstrated by mobile health apps, communication between clinical researchers and patients can be more consistent than ever before.
This emphasis on communication that is inherent to patient centricity has potential benefits for both patients and researchers alike. Advocacy groups educate individuals who may be interested in volunteering for clinical trials, shedding light on clinical trial opportunities they may not have known of before. Christel recalls a specific instance where providing the patients' perspective helped gain FDA approval for the popular diabetes medication, Afrezza: "It took the patient advocates standing up that actually turned the tide in the reason why Afrezza was approved… it was the patients who made the difference."
In the end, patient-centric organizations look at what matters most to the individual. Bonnie explains several aspects that organizations must consider when adopting the patient-centric model, posing an important question that brings the research back to the individuals who make it possible: "How does the research stay relevant to what's going on in the day-to-day lives of people with each of the conditions under study?"
For more on this topic, stream the complete PharmaVOICE interview with Bonnie and Christel here, and consider downloading our recent eBook, "Are you patient-centric?"