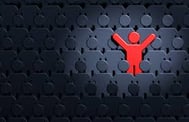 As we discussed in part I of our blog series on adaptive patient recruitment, the rare disease community is constantly striving to invest in developing new treatments. While there is a huge unmet need in this area, there are recruitment tactics that effectively provide support. Beyond the introduction of an early support program, which Jaime Cohen discussed in our previous post, there are additional strategies that can assist in higher recruitment numbers for rare disease. In part II of our series on rare disease we explore further.
In all clinical trials, it is essential to know the strengths and weaknesses of the sites. Typically, recruitment plans are developed based on majority rules; however, in rare disease, there is no majority. The smaller number of sites provides an opportunity for tailored support programs that can capitalize on strengths and weaknesses per site, instead of in the aggregate. For rare disease trials, customization and adaptation of recruitment plans per site will raise recruitment potential.
Existing investigator resources are vital to the development of a customized plan that caters to each site's needs. Most investigators have existing industry relationships that they foster. It is important to leverage existing principal investigator networks to maximize recruitment efforts. Learn about these networks so it isn't necessary to reinvent the wheel. Strengthening existing relationships will work for the mutual benefit of the principal investigator and the study. For example, can you deepen a pre-existing relationship with an advocacy group by providing materials for a speaking engagement? Reinforcement of existing relationships doesn't have to be complicated.
Across the rare disease studies BBK has supported, two-thirds of investigators will share mailing lists of potential referring specialists so someone else can conduct the outreach on their behalf – especially if this option is presented early on in the trial. Adding these lists to any planned physician outreach is a simple executed action to boost response rates and bolster recruitment.
Cultivating integrated relationships can help extend reach when recruiting patients for rare disease. It is important to foster an open line of communication between the sponsor, CRO and site (and recruitment partner if applicable). Frequent communication allows the study team to be alerted, and respond immediately if part of the plan needs adjusting.
Personal relationships count. The rare disease community is small and as a result, sponsors have the unique opportunity to maintain a higher visibility role at the site level, translating to a more personalized and stronger relationship with the site. Do what you can to learn whether your sites are conducting competing trials. With a limited pool of sites, sponsors are more likely to be competing for site mindshare as well as patients.
Adaptive patient recruitment for rare disease is comprised of many strategies. We will outline a few more in our third and final post in our series so stay tuned! In the meantime be sure to follow us on Twitter @BBKWorldwide and get involved in the conversation.