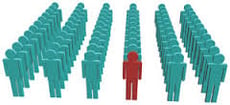 Part I of our blog series on adaptive patient recruitment focused on the importance of early support. Part II looked at how to best analyze investigator resources to optimize patient recruitment efforts, including cultivating integrated relationships. Today we wrap up our rare disease series on recruitment with two final tactics that can yield strong results.
Internet Advertising is a Must
When you or a loved one is diagnosed with a disease, chances are the first place you go is online to research that disease in more detail. In the rare disease community especially, patients, caregivers, and their loved ones crave information about what they're dealing with and will go digging online to uncover whatever information is available. Paid search, banner ads and a study website are all minimum requirements for casting the wide net needed in rare disease.
Advocacy groups are also online, and are likely to be aware of and aggregating information to publish about upcoming therapies and studies.
A solid web presence will lend legitimacy to your trial for the public, and will allow patients and potential referring physicians to learn about it and reach out on their own terms. It is a relatively affordable way to maximize reach.
Eliminate Transportation Burdens
In rare disease there are often only a handful of patients, and chances are those patients are scattered across the globe. Lifting the burden of transportation ensures patients – or the parents or caregivers of patients, feel more comfortable enrolling in a trial when they are not faced with the worry of travel.
When planning travel infrastructure, ensure that safeguards are in place to offset the unknown (unknown location and unknown timeframe for travel for example). Arrangements must be made quickly to get a patient from point A to point B, so open communication lines to key decision makers are a must.
When only one patient may signify as much as 20 percent of your enrollment, the expectation of higher cost is inherent. This cost can be realized in unexpected hurdles in the travel process, but travel is a given in rare disease.
Advanced planning will help mitigate the risk of a ballooning budget by identifying multiple possible scenarios (or cultural issues), but it can't foresee everything. As such, a critical piece of advanced planning is building in flexibility, and establishing clear communication pathways and escalation plans at the outset of the campaign.
These strategies coupled with those outlined in our earlier posts can effectively position a campaign to yield higher referral numbers and reduce overall trial timelines.
BBK will be releasing an eBook in the coming months providing additional details about these adaptive recruitment strategies. Stay tuned for more and be sure to follow us on Twitter @BBKWorldwide.