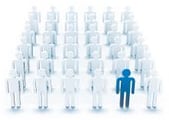 There is a huge unmet need in the rare disease community to invest in developing treatments. According to the US advocacy group Global Genes, there are more than 7,000 distinct rare diseases affecting 350,000,000 people worldwide and only 400 approved therapies. How can we adapt traditional recruitment strategies to target the right patients? The goal is to create tailored adaptive strategies aimed at extending reach and building relationships. There are many ways in which this can be done. In this first post of a series focused on adaptive recruitment for rare disease, I will explore the introduction of an early support program.
For uncommon diseases, traditional outreach is diminished by a small patient population and the challenge of the unknown. Rare disease is just that – rare. There are not a vast number of patients and information is not readily available so efficient patient recruitment can be a challenge.
Adaptive patient recruitment is designed to protect the integrity of global enrollment, specifically in a changing or threatened landscape. This is achieved by using real-time data, technology, and experiences to shape and modify recruitment plans based on the current needs of any given study. While this is critical to recruitment success for any clinical study, nowhere is this more crucial than in rare disease.
One of the many ways in which standard recruitment methods can be adapted is in the early program support phase. No amount of money or planning will enroll a trial if the Investigators are not engaged. Holding a properly planned and executed Investigator meeting early on in the process will bring these key opinion leaders together to strategize and share tactics amongst one another. In our experience, because of the low number of sites involved, sponsors often consider this meeting to be non-essential, but in rare disease especially, this component is critical and can set the tone for the entire study.
The introduction of a recruitment and engagement support program shows sponsor commitment to the study and fosters a sense of community. What's more, the introduction of a recruitment program at an Investigator Meeting allows the sponsor to gather intelligence about specific recruitment challenges from the site's point of view, and tailor a recruitment program to the needs of that particular site.
Among the more than 50 rare disease trials BBK has supported, Investigators are 49% more likely to engage with a recruitment program if it is introduced early in the process, before the first patient is introduced into the study.
Bottom line: early support builds trust at the site level and sets the stage for successful patient recruitment in rare disease.
I will be speaking more on this topic at DIA later this month in Washington, DC. If you're there be sure to attend my forum on June 17 from 3:30-4:30pm.