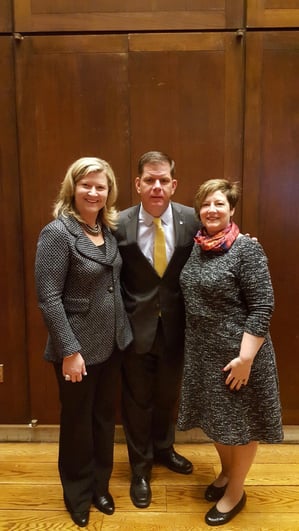 A city where women make on average .83 for every dollar earned by men, Boston is taking steps to close the wage gap through "100% Talent: The Boston Women's Compact." The compact is a voluntary pledge that more than 100 Metro Boston-based organizations have already signed, indicating their promise to close the gender wage gap in the workplace. Salary data will be collected and analyzed and companies will have access to research-driven tools and support to address pay gaps and inequities. Proudly, it's also the first initiative of its kind in the country.
BBK Worldwide became one of the earliest signers of the compact in 2014 and we were proud to join Boston Mayor Marty Walsh and others at a special City Hall event to mark his official signing the compact earlier this week. We're particularly proud of the role that our colleagues in the biopharmaceutical and healthcare community are playing to advance the belief that equity is a competitive advantage, including Boston Children's Hospital, Vertex Pharmaceuticals, Partners Healthcare, Tufts Health Plan, Tokai Pharmaceuticals.
When Joan Bachenheimer and I founded BBK 33 years ago, women earned 65% of what men earned for the same work. We've come a long way since then, but still have much work to do to address wage inequality. But the wage gap is about far more than a difference in pay between genders – it's about recognizing, respecting and rewarding talent regardless of gender, race, ethnicity, education, age.
More than a decade ago, BBK Worldwide furthered equity in our workforce by eliminating titles and restructuring our company to reflect the belief that innovative ideas, excellence in execution, and passion for customers comes from every corner of the workplace. There is no monopoly on exceptional people and I'm privileged to work alongside the many talented individuals and teams at BBK Worldwide.
If you're a Boston-based company and haven't already signed the Compact, we encourage you to join us.