You might have seen an article in the October 1 issue of The New York Times, titled "Uber, Lyft and the Urgency of Saving Money on Ambulances," by Austin Frakt. The article pushed for alternative modes of transportation in medical situations – such as Uber and Lyft – as cost-saving measures.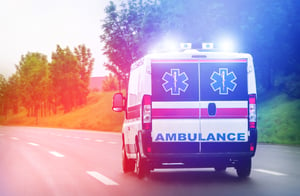 CEO and Founding Principal of BBK Worldwide, Joan F. Bachenheimer, wrote a strong response to the article, which has been submitted to the Times as a Letter to the Editor. We would love to hear your thoughts on possible use of ride-sharing apps like Uber or Lyft for emergency services.
I take issue with the article "Uber, Lyft and Urgency of Saving Money on Ambulances" on three major fronts:
1) Uber is a consumer transportation option attempting to expand its reach into the healthcare arena. Uber has no place in healthcare for many reasons. Consider: Drivers are not vetted, trained professionals in the transportation field. Uber permits drivers to deploy cars that have been on the road for as long as 15 years. The availability of wheelchair accessible vehicles through Uber Health is very low, with average wait times closer to 30 minutes. A non-emergency can turn into an emergency very quickly, and consumers discerning the difference is a recognized problem, with emergency professionals recommending that when in doubt, call 911.
2) The negative and allegedly unscrupulous business practices of Uber are covered in the news on a repeated and shocking basis. From reports of dangerously compromised vehicles purchased by Uber to expand its service in China, to driver abuse payment schemes and sexist workplace practices, Uber is not the model of a company worthy of taking care of patients at a time when sensitivity and care are paramount.
3) Uber is not Lyft. This is not to say that Lyft has not suffered problems in the creation of a patient transportation service, but these companies are not the same. Given the proliferation of ride services, we need to be more discerning about our choices and not complicit in our evaluations. We also need to recognize the value of existing site and hospital-based transportation services as viable options.
Patients are often reticent to call for help when they are in need, with some opting to drive themselves instead of calling an ambulance. It took the emergency medical system years to create a singular network of 911 to ensure immediate patient access to care. Consider that those who have suffered a heart attack wait longer to call for help, even though they have a greater understanding of their symptoms than those that are experiencing a first-time attack. Consider that advances in medicine for myriad conditions are only available within minutes or even seconds of symptom onset. And consider wait times in the ER if you don't come in by ambulance, and factor that into a self-diagnosed situation that was off the mark.
No one argues that the abuse of our tax money that pays for much of the availability of our emergency medical system is wrong and hurtful to society. But we cannot solve the problem by creating even more devastating and harmful concerns.
If you've had too much to drink and need a ride home from your night out on the town, call an Uber, or better yet, Lyft. If you are feeling poorly, err on the side of caution and call 911.