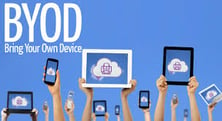 Mobile app technology is quickly becoming the baseline in clinical trials as new innovations continue to be introduced into the market. MCT-Congress, which I recently attended in Edinburgh, is dedicated to the business of mobile technology in the clinical trial space so as you can imagine, there was much discussion around how mHealth is impacting clinical trials – from patient recruitment and enrollment to site and patient engagement throughout the trial.
To BYOD or Not to
There are pros and cons to both sides of the Bring Your Own Device (BYOD) debate. For patients utilizing a mobile app within a clinical trial, part of the ease of use is having access to the technology via their own personal device, which is likely to always be on them. This means if a study reminder or medication alert pops up the patient won't miss it. On the flip side, for patients using a provision device that was provided by the site, it may not be something they carry with them at all times since its use is solely for the purpose of the study. It's cumbersome to carry around two mobile devices and for patients that aren't as prone to adherence, remembering to bring a second device with them at all times for the purpose of the study is a tall order. Adoption rate for personal devices is much higher.
On the flip side, sites have the ability to control preferences on a provision device whereas patients using a personal device have the ability to change their preferences. This can be problematic when for instance; a patient might disable reminder pop-ups from their personal device and as a result, inadvertently miss an appointment or reminder to take their medication.
The great BYOD debate was a hot topic at MCT-Congress. Time will tell which direction the industry moves in but we believe in the power of choice. When patients get to choose the best option for them it usually promotes better patient engagement. Whatever makes the patient feel most comfortable is something BBK Worldwide is in favor of.
Tradition Still Works
While mobile health technology has streamlined many of the processes for sites and has begun to create easier methods of data collection for patients, technology moves fast and big pharma is sometimes resistant to embracing change. Embracing mHealth technology can be a slow process for those within the clinical trial industry – especially when traditional approaches to patient recruitment and enrollment are still working. In our industry you can't be 100% innovative all the time.
BBK Worldwide believes in finding the right balance between yesterday's traditions and tomorrow's innovation. Think about a poster or brochure with a barcode in the corner that can be scanned with a mobile device that ties into an app. There is room for both so we can reach a larger audience, recruit in new ways and ultimately, better serve the patient.
For more insights download our free eBook on mHealth: A New Era in Patient Engagement and get involved in the conversation online using #mHealth, #BYOD and #BBKPatientsFirst.