When it comes to the benefits travel programs offer in support of clinical trials, opinions are varied. In a recent article published in International Clinical Trials, BBK's Hannu Koski and Rob Laurens present compelling data with industry insights. "Talking Travel" looks at the appeal travel assistance programs have from the patients' perspective.
Upon examining data from BBK's research surveys and case studies, the true impact of patient travel programs is revealed. By offering a breakthrough enrollment solution for both patient recruitment and engagement, travel programs can directly influence the enrollment and completion of a given clinical trial.
Take these two major insights gleaned from the BBK Worldwide 2018 Patient Voice Survey to more than 3,800 patients, for example: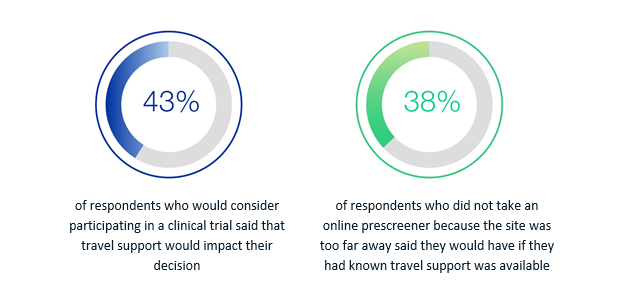 Conclusions can be made that when the needs of the patient are considered, travel programs become more than a means to a destination, they become an extension of care. They can offer a halo effect to recruitment by educating the public about study participation as a treatment option worth considering.
For a more comprehensive view, consider the undeniable positive impact revealed in the case studies shown to reduce withdrawal rates and you begin to see that travel programs that offer scalability and flexibility based on study need are too significant of an offering for sponsors to ignore. It is not beyond the realm of possibility to expect that, ultimately, effective travel programs can help sponsors arrive at an early completion of the study -- even before the target randomization number is reached.