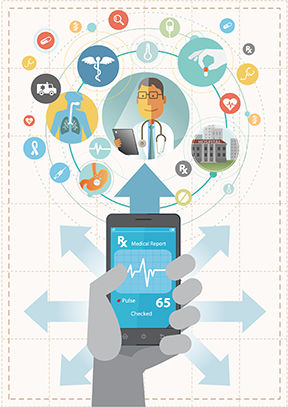 According to industry estimates reported by research2guidance, 500 million smartphone users worldwide will be using a healthcare app this year, and by 2018, 50 percent of the more than 3.4 billion smartphone and tablet users will have downloaded at least one mobile health app. While patient engagement is key to the overall success of the mHealth movement, the vital role physician engagement plays must not be overlooked.
It is clear that consumers or patients are regularly engaging in mobile health but physician buy-in is reported to be more split. The reasons for resistance among physicians range from lack of regulatory oversight to an onslaught of unnecessary patient data to sift through. 37 percent of doctors have no idea what health-related apps are even available, according to a 2014 QuantiaMD poll, which asked 250 physicians about their mobile application usage. The reasons vary from generational (millennials are more prone to using mobile technology than baby boomers for example) to type of practice (general practitioner versus a more niche specialty practice where patient/physician correspondence is less routine). Regardless of the reason, physicians across the board must begin to embrace the mHealth movement or risk losing patients to more forward-thinking practitioners.
This being said, for every one physician that isn't jumping on the mHealth bandwagon, there are nearly two who are. Just a few years ago it was impossible for physicians to use a mobile app to securely capture photos of a patient's condition and upload directly to their medical records, or to review x-rays on their mobile device, allowing for faster review and response rates. The Wall Street Journal recently covered one of the top 10 healthcare apps in use by doctors called EPOCRATES, a basic drug information guide that provides accurate dosage guidelines and warnings about harmful interactions – the type of guidelines that are subject to change and are revised often. An app that provides important real-time information to physicians 24/7 can change the timeline for how and when patients receive the best treatment possible.
As it relates to clinical studies, the usage on the part of both the patient and the physician can be a game changer. The same type of app that allows patients to track appointments, medication intake and vital data that a study depends on, offers physicians access to consistent, real-time patient tracking versus sporadic observations. mHealth can mean shortened study times, which can in turn affect how quickly drugs make it to market.
Visit our blog often for the latest on this topic and join the conversation on Twitter using hashtag #BBKmHealthGetEngaged.