BBK's RSG® Arrive patient travel program continues to stand out in an increasingly crowded marketplace of companies offering concierge travel and ride-hailing services. One of the reasons RSG® Arrive is in a class by itself is the dedication, commitment to care, and professionalism of its drivers. They routinely go above and beyond to ensure the comfort and care of their passengers.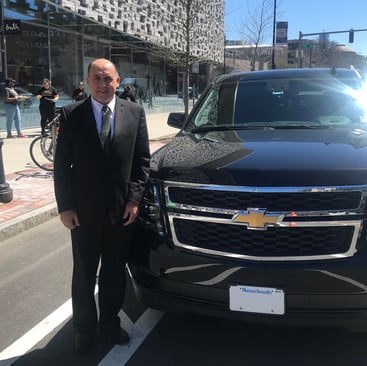 To recognize the important role that our RSG® Arrive drivers play in enhancing the clinical trial patient experience, we will be celebrating a driver of the month, starting this month with Viken.
Viken has been a professional driver in Boston for more than 18 years, a career defined by a strong work ethic, positive outlook, and commitment to the customer experience. He never hesitates to go above and beyond to ensure the care and comfort of his passengers. "I always try to go the extra mile, offering a hand when needed."
As an RSG® Arrive driver, the most satisfying part of his job is building a relationship with the study participants and their caregivers. "You develop a relationship. You know them by their first names and they know you by yours. And you can tell it's a comfort for them to have the same driver for each appointment, and for that driver to always be there for them, and always to be on time."
Living in Boston for over 30 years, Viken enjoys the city's history, friendly people, and sports teams. "The teams surprise you every year!" He is the proud parent of a son and daughter, and is currently looking forward to watching the final episodes of Game of Thrones with them.
About RSG® Arrive
RSG® Arrive enhances access to care, removes barriers to participation, and fosters long-term engagement. Developed specifically for clinical research, RSG® Arrive is a concierge service that manages all patient travel – from simple ground transportation to complex international travel. At its core, RSG® Arrive features a commitment to care that transforms the patient experience while accelerating enrollment success.
To learn more about RSG® Arrive and how it meets the needs of today's clinical trial participants, click here.