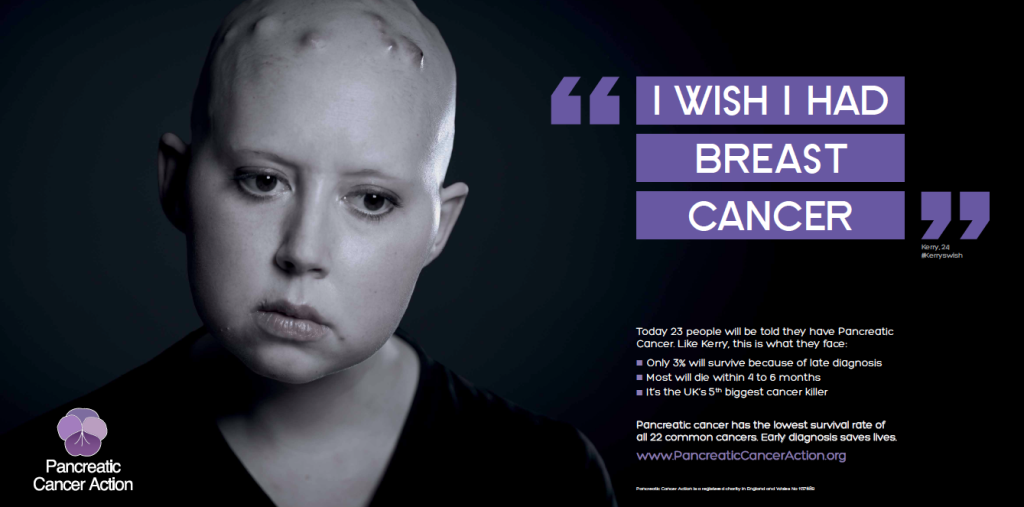 "I Wish I Had Breast Cancer"
Meet Kerry Harvey. 24 years old. And diagnosed with pancreatic cancer – a cancer with which she only has a 3% chance of living another 12 months. Kerry wants you to know that she suffers from "cancer envy" (Pancreatic Cancer Action). She never imagined she'd feel envious of someone suffering from breast cancer, a condition with an 85% survival rate, but Kerry faces the grim prognosis of metastatic pancreatic cancer, a condition with an average life expectancy of up to six months and one that only receives 1% of research funding.
"Yes, the strap line is hard hitting and may even offend someone but it does compel you to read on – which is what we need people to do if we are to change the fortunes of pancreatic cancer (Ali Stunt of Pancreatic Cancer Action)."
Despite widespread criticism and backlash, this U.K.-based ad campaign, defended its shock advertising strategy – one that brazenly highlights the condition's poor survival rates, minimal global awareness, and lack of research opportunities by featuring real-life patients like Kerry. Gauging the balance between sensationalizing and personalizing, the campaign far exceeded the group's awareness objectives – going global in less than two days with an ad spend total of less than $25k. Successfully raising awareness of pancreatic cancer, could this risky tactic be used to effectively recruit patients for clinical trials?
Contrary to shock advertising, which seeks to jar a response from its audience, clinical trial ads should not startle patients into taking action, hint at any potential benefits, or misalign themselves from the surrounding regulatory barometer. But there are important lessons to be learned from the technique of shock advertising that can be applied to patient recruitment:
1.
There's danger in playing it safe. The real risk is not being seen at all.
As the patient recruitment landscape becomes more competitive – particularly with sponsors feeling increased pressure to accelerate timelines and optimize budget – clinical trial marketers are constantly competing for mindshare and notable strategic differentiators. Some have begun to develop cutting-edge advertising campaigns to successfully "break through the clutter" of competing ads to attract greater awareness and interest in clinical research.
2.
Find comfort in the uncomfortable
Implementing a good advertising strategy should feel a little uncomfortable and advertising teams should be fearless as they create an approachable campaign they feel will work. If the same safe messages and tactics in patient recruitment advertising are always being used in fear of violating any rules, then the campaign will simply become wallpaper.
3.
Embrace rules and regulations
Great creative teams fully understand the rules and regulations around recruiting patients and view them as opportunities – opportunities to collaborate and invite regulatory bodies earlier in the creative process – and not as an endpoint. Regulatory bodies do in fact welcome this type of early collaboration, especially in submissions that include a novel or innovative approach.
So when it comes to breaking through the noise, consider these essentials:
Be a Strategic Risk-Taker
•
Have a purpose and concrete goals
•
Remain true to your goals
•
Don't be afraid to push boundaries
Eliminate Excuses
•
Welcome the regulatory framework as an opportunity
•
Understand the rules and regulations
•
Be fearless –regulatory should not limit creativity
Create an Exchange
•
Invite regulatory bodies to collaborate earlier in the process
•
Provide strategy and supporting documents to support your work
•
Avoid making assumptions – be comfortable asking questions
BBK Worldwide's creative experts can differentiate your study from the clutter to deliver an innovative and powerful message, strategically crafted to drive long-lasting results and ensure your campaign's timely enrollment success. To learn more about our award-winning creative and media services, please click here.