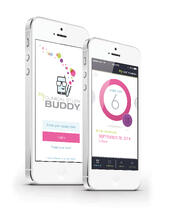 BBK Worldwide is pleased to announce its recognition as a finalist for its mobile patient engagement app My Clinical Study Buddy℠ in the "Best Technological Development in Clinical Trials" category in the 2014 SCRIP Awards. The annual SCRIP Awards acknowledge and applaud the pharmaceutical industry's highest achievers across all parts of the value chain, and recognize both corporate and individual achievement. Award winners will be announced at a ceremony in London on December 3rd.
Available on the Apple Store and Google Play™, My Clinical Study BuddySM helps clinical trial sponsors optimize the millions of dollars spent on patient recruitment advertising annually by utilizing mHealth technologies to keep patients engaged and more actively involved throughout the study. The highly customizable app provides patients with everything they need relating to their specific clinical study, including appointment reminders, resources and videos, all readily available at their fingertips.
BBK would like to extend a congratulations to all the finalists! We will see you in December!
For more information about the SCRIP Awards and a full list of the finalists, click here.