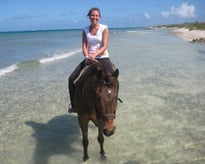 We are pleased to announce that BBK's Head of Global Media Strategy Sarah Mandracchia has been named to this year's PharmaVOICE 100 – the magazine's annual list of individuals recognized for their positive contributions to the life sciences industry.
An honor not surprising for those lucky enough to work with her, Sarah's commitment to ensuring that each BBK client is on the path to better, faster and more cost-efficient enrollment through effective global media campaigns is unwavering and inspiring. She has been a driving force behind building our media department into what it is today and we couldn't be prouder!
Providing thoughtful and experienced counsel to both strategic and operational initiatives, Sarah helps our clients execute and successfully manage today's multichannel advertising campaigns. To date, she has been instrumental in helping dozens of global studies enroll on time or before deadline, saving clients millions of unnecessary spend in inefficient recruitment tactics and study delays.
PharmaVOICE's Co-founder and Editor Taren Grom says, Sarah is "admired for her leadership approach, which is based on an understanding that everyone has something valuable to offer, and by being inquisitive, curious, and determined she creates an environment that allows BBK to provide extraordinary patient recruitment strategies and tactics to help advance clinical research."
Congrats Sarah!