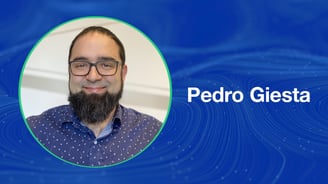 We're very pleased to announce the hiring of Pedro Giesta as designer. With a talent for cutting-edge creative and insightful design, Giesta joins a team of award-winning designers and copywriters who push the industry forward with innovative and imaginative solutions. In his new position, Giesta will support concept development through creative execution – leveraging his experience as a studio artist, production artist, and graphic designer in the process.
Giesta will develop and support high-quality advertising for the firm's pharmaceutical and biotech clients, turning healthcare strategies into compelling campaigns that inform, inspire, and engage clinical research audiences. "Pedro is a visual storyteller who can translate creative concepts into sound strategic solutions," says Mike Schaeffer, Creative Director – Art, BBK Worldwide. "We're excited to welcome Pedro – along with his creative energy and passion for design – to our team."
An expert in visual communication, Giesta has an extensive portfolio reflecting over 20 years of conceptual thinking and creative execution. He has supported projects for PUMA North America, MullenLowe, Hill Holliday, Vistaprint, Conover Tuttle Pace, Wallwork Curry McKenna, and Helix Education, among many others.